Established in 2008, Zebrano London is a stylish restaurant, after-work cocktail bar, and late-night club. It offers one-of-a-kind entertainment and lures customers with its happy hour deals on wines, beers, and cocktails.
Formerly named "Establishment," Zebrano is located on the site once owned by famous comedian Peter Cook. Around the mid-sixties, it was one of London's top comedy and music scenes. Even though Zebrano London is no longer open, its spirit of entertainment and late-night soiree remains.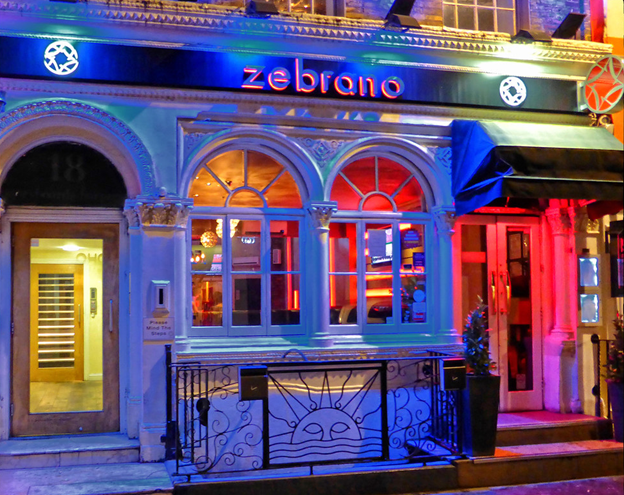 Alternative to Zebrano
If you want to go and visit the London bar scene two popular options are the Shoreditch Pub Crawl as well as the Camden Pub Crawl, both available every weekend in their different areas of London.
Disco Inferno
Frequented mainly by groups of friends and colleagues looking for after-work parties, Zebrano's atmosphere was friendly and fun, lasting until the early hours. At around 8 PM, it will transform into a club, and the music starts blasting.
Zebrano had a modern and elegant interior, where black seating abounds, and dark chandeliers stand out against dark wood-panelled walls from where the bar takes its name.
Downstairs is where the real party happens, where you'll find lit-up coffee tables and an expansive dance floor that will remind you of discos from the seventies. Zebrano's music is good and will get everyone pumping. Whilst Zebrano can be a bar or restaurant from any other era, the variety of innovative cocktails and modern mixologists bring it up to date.
Three-Floor Layout
Soho London had an amazing history, being one of the old stalwarts of the Soho culture. The bar and restaurant had a three-floor layout with numerous bars and enough space that hosted parties of all shapes and sizes.
The lower bar area offered an intimate setting for smaller parties, while the main floor consists of a spacious dance floor and numerous luxury seating booths. Right above the dance floor was the VIP balcony bar with plush cushioned booths, a private bar, and lit-up tables.
Delectable Cocktails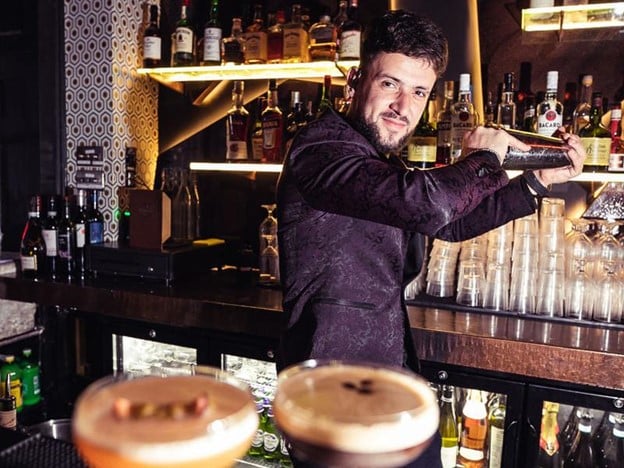 The friendly bar staff of Zebrano were happy to prep up delectable cocktails for those wishing to enjoy their night out with more than just the coke and rum. They had all the classic cocktails, including the Cosmopolitan and the Dry Martini. Plus, they were skilled at combining organic and fresh ingredients and using the finest spirits in London. Their experimental approach was a unique way to relax and have fun in London.
When you get hungry after a night of partying, check out Zebrano's Brasserie menu, which features modern European cuisine, with light snack offerings in either sharing or smaller platters. The menu is brimming with tasty dishes, from lighter bites to burgers, pizzas and steaks. They also have a menu to cater to corporate meetings, business lunches, dinner dates, or kickstarting your night out with friends.
Their happy hour half-price cocktails are worth the wait, which are available from 5 PM to 9 PM every night. Better yet, take advantage of the free-flowing Prosecco dinner – the best way to kickstart your night outs with friends.
Weekly Program of Entertainment
Zebrano London provided its loyal customers with an exciting range of options for a fun night out in London. Aside from the mouth-watering cocktails and after-party snacks, Zebrano's clientele were treated to various weekly entertainment programs, including DJs and live music. Zebrano was also renowned for their after-work networking events, which has made it a popular spot for London professionals to network and conduct business meetings.
With Zebrano being located only a few minutes from the heart of West End, it was the perfect spot for pre-theatre or post-theatre refreshments. Zebrano was also the go-to place to celebrate special occasions, providing a real member's club-style service without the hefty price.
They had celebratory packages, such as a Birthday Package with a bottle of Prosecco and a Cocktail Party Package that includes two bottles of Prosecco and one bottle of martini. Those hosting big parties, such as corporate events, were able to take advantage of their Premium Packages.
Zebrano also catered to sports fanatics. The establishment had a spacious screening areas covering almost all sports, including Premier and Championship League Football, Rugby, Cricket, and Boxing.
Zebrano created a sophisticated venue where fun compliments old-school hospitality, allowing great people to meet, dine, and party. The restaurant and bar served up a fantastic menu of food, drinks and music in a place that rewards the great people of London with a night they truly deserve.